Our Swiss Cellier Family
Updated June 25, 2020
This is the web page of the Cellier family. Please visit often for updates and expanded content.

These pages, maintained by Alfred Cellier III, include Cellier Genealogy data of persons of Swiss ancestry named Cellier, by birth or by marriage, using data collected at the Cellier Web Site at MyHeritage by Prof. Dr. François E. Cellier, our cousin at ETH Zürich. Importing those data to this site enables the records to be found with Google and other search engines, and offers easier tree visualization. Note that living persons are not displayed here; however, family researcher inquiries are welcome.

The Swiss Cellier, ancestors and present-day, have not been a populous lot. This graph shows the known (world) population of Swiss Cellier from 1500 through 2010:


This graph was drawn using GenealogyJ to numerically analyze the ged file.



LATEST NEWS -
As of June 2020, seven persons in the world have been characterized as at or within my Y-DNA haplogroup SNP of E-PF4666.
Four are in our Swiss family (Chiffelle/Junod/Cellier), and three are our Italian-ancestry distant cousins.
All are listed in our FTDNA (familytreedna.com) 'DYS19<=9 project'.
We are a unique set of people in having a rarely occurring allele at that genetic marker.
As of June 2020, FTDNA has further updated the Y-tree, with many added sub-branches, as a result of Big-Y tests.
Two Italians are at further sub-branches E-FT40236 and E-FT42255; while I and a Junod are a step yet further at terminal SNP of E-BY5033.

Here is a map depicting the migration and evolution of our DYS19<=9 genetic group.
This map was created by a very nice tool at scaledinnovation.com, for which we thank Mr. Rob Spencer.




In early 2020 I received a full-genome DNA test through Nebula Genomics.
I have not yet plunged into the analysis of that data; some tools do appear to be available on the web.
Nebula's standard reports are oriented toward health indicators, but they also provide this genetic origins map.
Obviously, the two displays consider quite different time spans.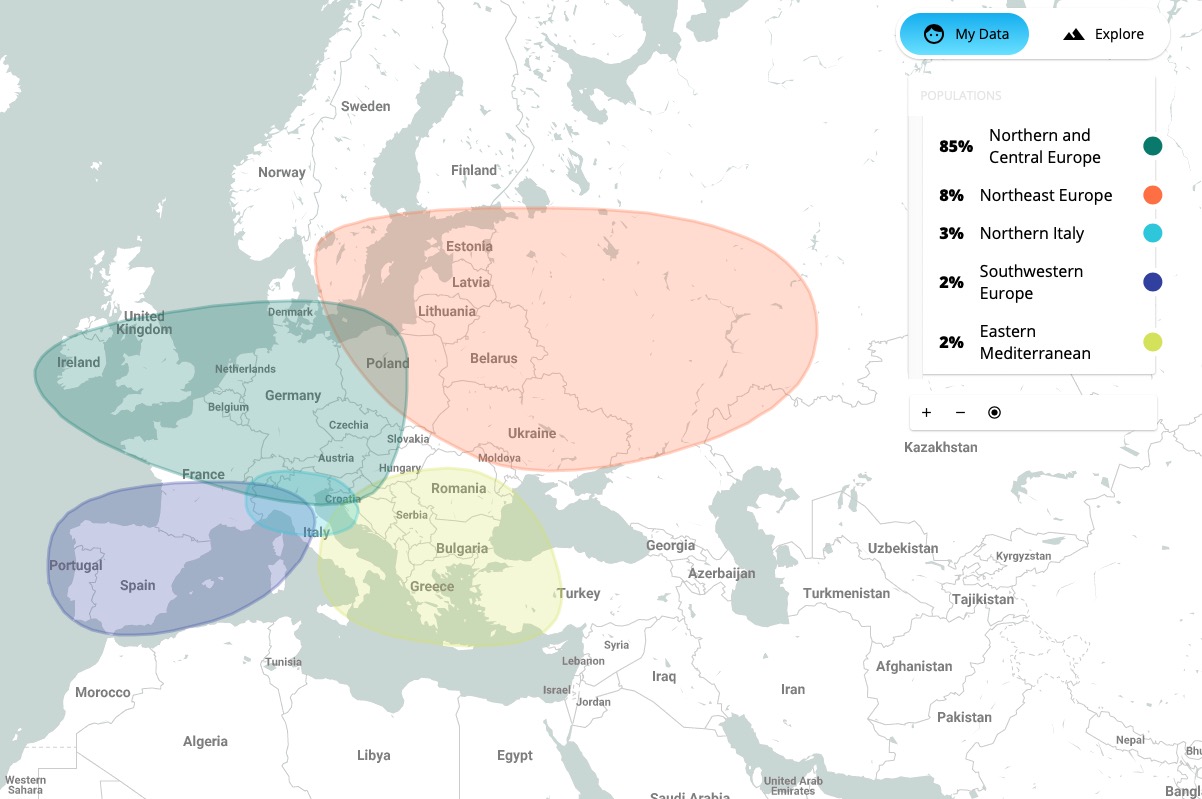 CLASSICAL GENEALOGY -
The "paper trail" has been hugely researched by Prof. Dr. François E. Cellier; further, François has found genealogical evidence that Chiffelle is very probably the root for our Swiss family; and those Tschiffele records lead back to Cipelli (or Ciphelli) of Italy, who came to the Swiss lakeside village of Sursee around 1300. Please see the 'Cellier Genealogy' link at the upper left on this page.
New 'news' of the Swiss Cellier history has become very sparse, as our tree has become quite nearly complete.

DNA GENEALOGY -
The haplogroup 'terminal SNP = E-BY5033' is the name of my twig on our branch of the human genomic tree, determined from my paternal-line Y-DNA STR and SNP testing.
The haplotree continues to expand quite rapidly, with the advancement of Next-Generation DNA sequencing technology.

Following the branches from the tree trunk, according to familytreedna.com (June 2020) I am at:
(each designator should be preceeded by "E-")
E/M96/P147/P177/M215/M35/V68/M78/Z1919/L618/V13/CTS8814/CTS5856/BY3880/FGC44169/S7461/PF4666/FT40236/FT42255/BY5033.

The 2019-2020 ISOGG Y-DNA tree places E-BY5026 (= E-PF4666) at 'E1b1b1a1b1a16b~', not yet showing the sub-branches.

The age of this subclade E-BY5026 (= E-PF4666) is estimated by YFull as formed 4100 years, with TMRCA (time to most recent common ancestor) 2800 years. YFull also does not yet show the sub-branches.

The Y-DNA (paternally-linked) genetic tests prove unequivocally that today's male Cellier, Chiffelle, and Junod, of (Nods, Lignières, La Neuveville) Swiss ancestry are indeed cousins. Plus, our Swiss family is a very unique group of humans! Our males carry the extremely rare DYS19 marker value of (8 and) 9, shared by only about thirty-two known persons in the entire DNA-tested databases (well over one million persons). The genetic matches within this Swiss cluster are quite close together, yet distinct from the general population. We are definitely not Huguenots or other Frenchmen, whom our ancestors predated in Switzerland.

We can confidently assume that *all* of the Swiss Chiffelle/Junod/Cellier family share this E-PF4666[/FT40236/FT42255/BY5033] terminal SNP, given the close match of YDNA-111 STRs among our related Swiss subgroup, along with paper trail data. Dare I suggest that therefore we expect that every male Swiss Cellier/Chiffelle/Junod shares this trait?

This E-PF4666 SNP (with some sub-branches) is quite probably shared by all of the low-DYS19 Italian subgroup, also. The common ancestry, with our Swiss subgroup, of the three Italians who have tested as E-PF4666 (+) appears to date back about 60 generations (perhaps 1500 to 1800 years).

Two British-descended individuals also exhibit the same low DYS19; however, their other markers mismatch the rest of us to a greater degree, indicating potential common ancestry at about 82 generations (perhaps 2500 years). We await further data.

You can see detailed YDNA results at our FTDNA DYS19<=9 project, and on the DYS19<=9 pages on this website.
The E-V13-B cluster formerly posted at www.haplozone.net/e3b/project/cluster/41 by the E-M35 project is no longer available online due to GPDR.
Articles by François about our YDNA, written several years ago are here : Swiss Cellier DNA and DNA_2 (pdf files).

About 15 to 20 other persons (as of 2018), spread from the mid-east to Scandinavia, who are characterized at S7461 (not PF4666, BY5026, S7461*), are in several distinct tree-twigs of their own, and they show quite distinct Y-DNA STR mismatches from us.


THE TALE OF OUR SEARCH -
I knew little of the background of my grandfather Alfred Cellier, except that he was Swiss. In 1997 we passed through Lucerne and Basel, a long-way train loop from Florence to Paris, just to see a bit of his country, but not knowing where to look.

My research started circa 1999 after I retired from my electronics engineering career. Initial internet searches produced little information. A few documents were obtained from U.S. government records. In 2000, with great luck we discovered the (EPFL) PhD research publication of Prof. Dr. Antoine Wasserfallen, centered on the business of Neuchâtelois Antoine Borel in San Francisco, which included family details connecting the Cellier and Borel families. In 2002, Ron Fick (great grandson of Antoine Borel) saw one of our posted inquiries, and Ron sent us a 1901 letter from Alfred; and later, childhood photos of Alfred Jr. and Yvonne. That year we first glimpsed an example of a Ballif and Cellier Clock, offered in an earlier online auction.

In 2003, we spent five days at the Family History Library in Salt Lake City; what a wonderful resource! At that time we discovered that grandfather Alfred had a twin brother, Eugène, as well as brothers Edouard and Charles Edouard and sister Marie-Cécile. Wow!

In October of 2003 we traveled to Neuchâtel for additional research, and to walk the streets of grandfather's village. Thanks to Antoine, we visited the Borel archives at the Moulin of Bevaix, curated by Alphonse Henry, who found several photographs of our family!

A rather long dry spell intervened. In 2009, we did the Y-DNA testing. A very close match was found with Nicolas Junod, of Lignières origin.

Finally, a long-awaited return to Switzerland, for the entire month of July 2010. And what a month! Just days before departure, we received email from Jacqueline Fernández Cellier, great-granddaughter of Eugène! What a wonderful surprise! We altered our plans to include days in Lausanne, where her brother Fernando and sister Isabel live. We began in Zurich, meeting François for the first time (email with him started in 2001). Then to Neuchâtel, as a base. Antoine Wasserfallen included us in his fine 50th birthday celebration at beautiful Hôtel de Peyrou, where we again met Alphonse Henry, and new friends. We toured with DNA-cousin Nicolas, and met Théo Moeckli (son of Maurice Moeckli-Cellier) in La Neuveville. Nick took us to Nods and Orvin (where my ancestor Jean Jacques was preacher, before Basel).

At Neuchâtel castle, I discovered François' ties to La Neuveville. We found the Ballif and Cellier watch in the museum at La Chaux-de-Fonds. We saw the Cellier blason in La Neuveville's historic town hall, in a session graciously arranged by Catherine Chapuis that included fellow U.S. visitor Blake Ballif, quite possibly a distant cousin. I discovered unpublished family trees of La Neuveville researched by Dr. Olivier Clottu, at BPUN in July 2010. We returned to La Neuveville for a day of photographing documents, with the kind guidance of Maurice Evard. The ancient documents there have not been copied otherwise, so are unavailable without such a visit. We went on to Lausanne and enjoyed meeting with Fernando and Isabel. They provided a rich collection of family photographs! We also found time to dine with Antoine Wasserfallen in Montreux.

In late 2010, François began to further explore the available records of La Neuveville, Nods and Diesse, and suceeded in pushing back the family trees of Swiss Cellier (named by birth or marriage) to approximately 1500 in Nods, which we believe is the fount of the Swiss Cellier family. See more in the links on the Genealogy page : Cellier Genealogy

In January 2011, François researched the registries at Etat Civil du Jura Bernois in Courtelary, where the civic records of Nods are being kept.

In February 2011, François continued research in La Neuveville and Nods, and incorporated his findings on the MyHeritage site, and we updated this site, this time including photos. See more on our Cellier Genealogy page. We also added two newly acquired photos of the 'Ballif et Cellier' watch that is in the Museum at La Chaux-de-Fonds.

Filling a gap in my own ancestry records, super-researcher cousin François found traces of my lost great-uncle Charles Edouard Cellier (1869-??), who emigrated to Quebec and married there. Therefore, on 14 March 2011, we updated the 'Cellier of Neuchâtel' pages, containing the relatives and ancestors of my grandfather Alfred Cellier (1870-1943).

In April 2011, I added a page, La Neuveville, containing information about the families of La Neuveville, and posted pdf copies of related books and links about the village and region.

Congratulations to Prof. Dr. François E. Cellier, who on 07 April 2011 was inducted as a member of the Swiss National Academy of Engineering.

On 18 July and 17 August 2011, we again imported the latest trees from the Cellier MyHeritage.com site to this site, a very minor update to the 10 May and June 6 uploads. On 17 August, we also updated our "Cellier of La Neuveville and Neuchâtel" tree.

On 18 October 2011, we imported the latest Cellier MyHeritage.com trees and illustration. In this major update, the Nods and LA Neuveville branches of the Cellier tree were joined to the trunk in Nods!

In March 2012, we imported the latest family trees and illustrations from the Cellier MyHeritage.com site to this site; see them at Swiss Cellier Family.

In June 2012, I added a page of narrative about my father, Alfred Cellier Jr. (1901-1979), and newly discovered articles on aviation history topics that he published in the 1930s. In August 2012, I added narrative and photos about my grandfather, Alfred Cellier (1870-1943), and my aunt Yvonne Cellier Graham (1904-1987). A few months later we added a page about the Ryan ancestors of my paternal grandmother.

In early December, we learned of YDNA results from an additional Chiffelle, who is closely grouped with our unique cluster of low DYS19 !

Cousin François has continued his significant historical research of our French-speaking ancestral home. The results will be published soon. He has now completed the photographing, and is indexing, the historic church and civil records of La Neuveville and other connected villages, including not only Cellier, but ALL of the residents of the area since approximately 1500. The year 2012 was the 700th anniversary of La Neuveville; Nods is even older.

On 19 December 2012, I added narrative and photos of our October 2012 Swiss Visit with family and friends in Switzerland.

On 21 December 2012, we updated the Cellier Genealogy Web Pages herein with current data from the MyHeritage Cellier Family Pages.

In February 2013, YDNA results arrived for a Nods descendant of Collet Cellier - as predicted, sharing our unusual low marker value at DYS19. This is unequivocal proof that the male Cellier of Nods and La Neuveville ancestry are indeed cousins, validating the interpretation of the ancient legal/church/social registers. Also, two of our French-Swiss cluster have received results of extended YDNA testing, to 111 markers, showing quite close genealogical distances. These Y-DNA tests, indicators of paternal lineage, categorize us in "E1b1b1a1b*; M78+V13+ Cluster B", while our SNP tests place us in "E1b1b1a1b1a - L142.1, L542/PF2220, Page102, PF2211/V13, PF2210/V36". Nifty, eh?

In March 2013, François updated the MyHeritage site to show the descendance from Cipelli/Tschiffele/Chiffelle, through Junod, Sallier, Celier, to our final Cellier. Also in March, we updated our "Neuchâtel" tree pages to include additional and corrected entries for our Petitpierre and Bovet ancestors (thanks to Michel of Val-de-Travers and his geneanet.org trees!), along with other updates.

In September 2013, we ported François' latest updated MyHeritage site data over to our Cellier Genealogy pages. And, we initiated a DYS19<=9 Project at familytreedna.com to seek connections to our Italian cousins.

On 20 December 2013, we again ported François' latest updated MyHeritage site data over to our Cellier Genealogy pages. New research has revealed additional generations in the 1300 - 1500 era.

In May 2014, we added pages to this website containing supplemental information relevant to persons with DYS19<=9, including the Y-DNA DYS19<=9 Project at familytreedna.com. The link is also at the upper left of this page.

In July 2014, based upon additional YDNA test results, we updated the pages of this website containing information relevant to 24 persons with DYS19<=9.

In January 2015 we discovered the date of death of my great-uncle Charles Edouard Cellier as 30 Jun 1927 in Cochrane, Ontario, Canada.

In April 2015 we imported the current database from the MyHeritage site for inclusion on our Cellier Genealogy pages, and did a few site tune-ups.
We removed the promised Nods page, as we have failed to gather adequate historic material to post there.

In August 2015 we updated and expanded our grandfather Alfred Cellier's extended-family 'Neuchâtel' family genealogy pages. We are pleased to have finally discovered a bit more of the life path of our paternal grandmother and of her mother, including remarriages of both. We determined that grandmother Margery succumbed to the Spanish Flu epidemic in 1918, at the young age of 37. Unfortunately, we still do not have a single photo of our grandmother, nor do we know her resting place.

In October 2015, we received results from my familytreedna.com "Big Y" genetic test, which detailed our SNP haplogroup as V13 ... CTS5856 ... S7461. This SNP haplotree, which points to millennial ancestral generations, is expanding rapidly with evolving nomenclature. I presume that all of my Swiss cousins share these same SNPs. We await further insights!

In March 2016 we again updated and expanded our grandfather Alfred Cellier's extended-family ("Neuchatel") genealogy pages. We found that we had the wrong Sullivan as first husband of my sister Margery; unfortunately, we have no further data on the correct Frank Sullivan.
We hope to see further SNP test results for our fellow DYS19<=9 people, which will establish our terminal SNP or SNPs in that group.

In October 2016 we again updated and expanded grandfather Alfred Cellier's extended-family ("Neuchatel") genealogy pages, and restructured the opening 'news' and 'overview'.

In June 2017 we restructured the opening sections.

Numerous Swiss Cellier, Chiffelle, and Junod family members enjoyed the family pic-nic BBQ on 20 August 2017 on the plateau above Diesse, arranged by Alexandre Cellier.
The tale of that visit is told at 2017 Swiss Visit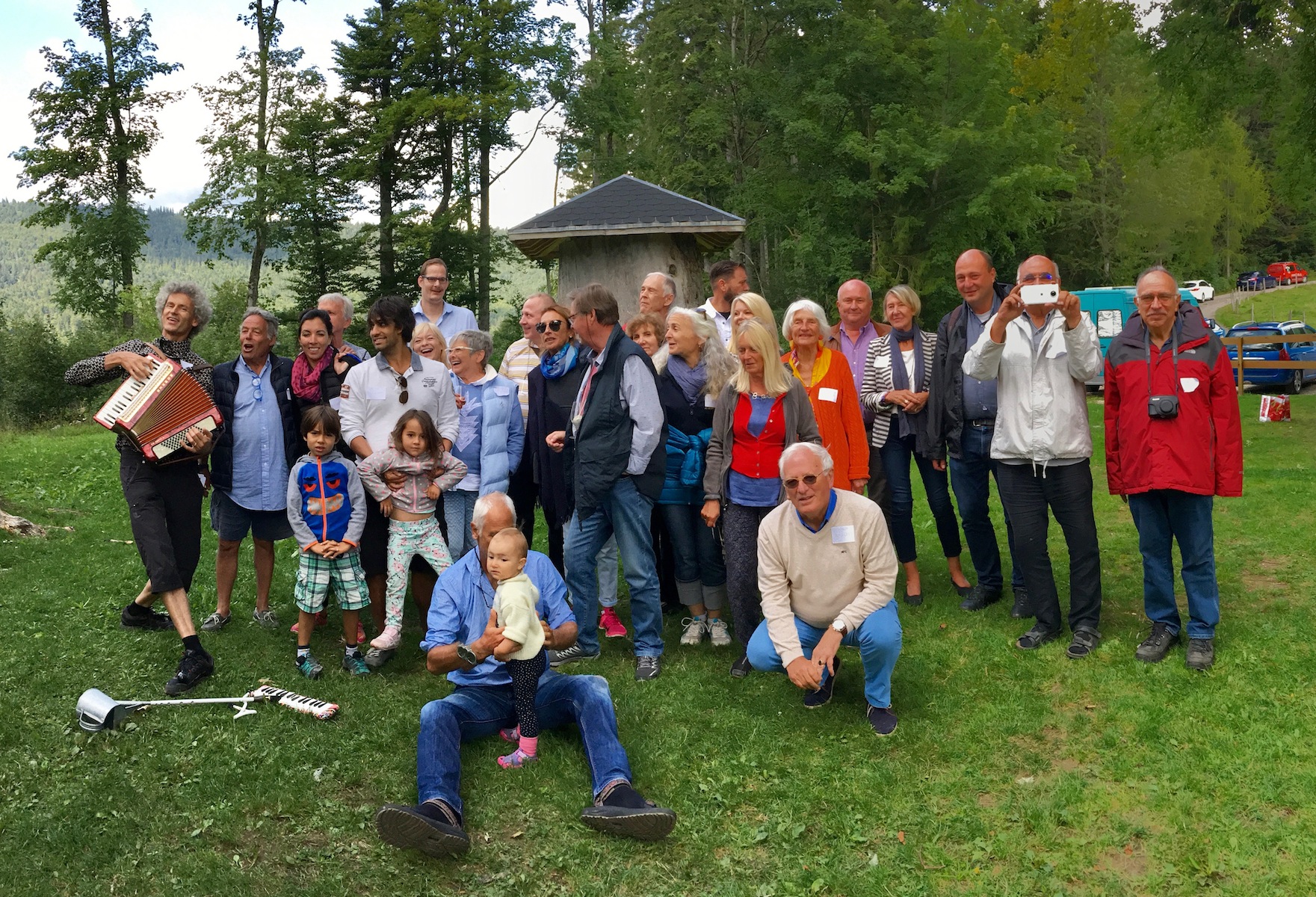 Photo by Claude Cellier.

In November 2019, and in June 2020, we restructured the opening section of this page, reflecting new YDNA results.