Our 2017 Visit with our Swiss cousins and friends ...
revised 04 January 2018

Dolores and I enjoyed 14 delightful days in Switzerland in August of 2017. Son Dave and his wife Stacey joined us for the first week! We experienced many locations that were new to us, and visited with many cousins and friends. As in our last trip, 2012, the time went by very quickly! We must be very brief here; there were literally hundreds of memories and (300+) photos to select from. (Throughout this page, click for larger photos.)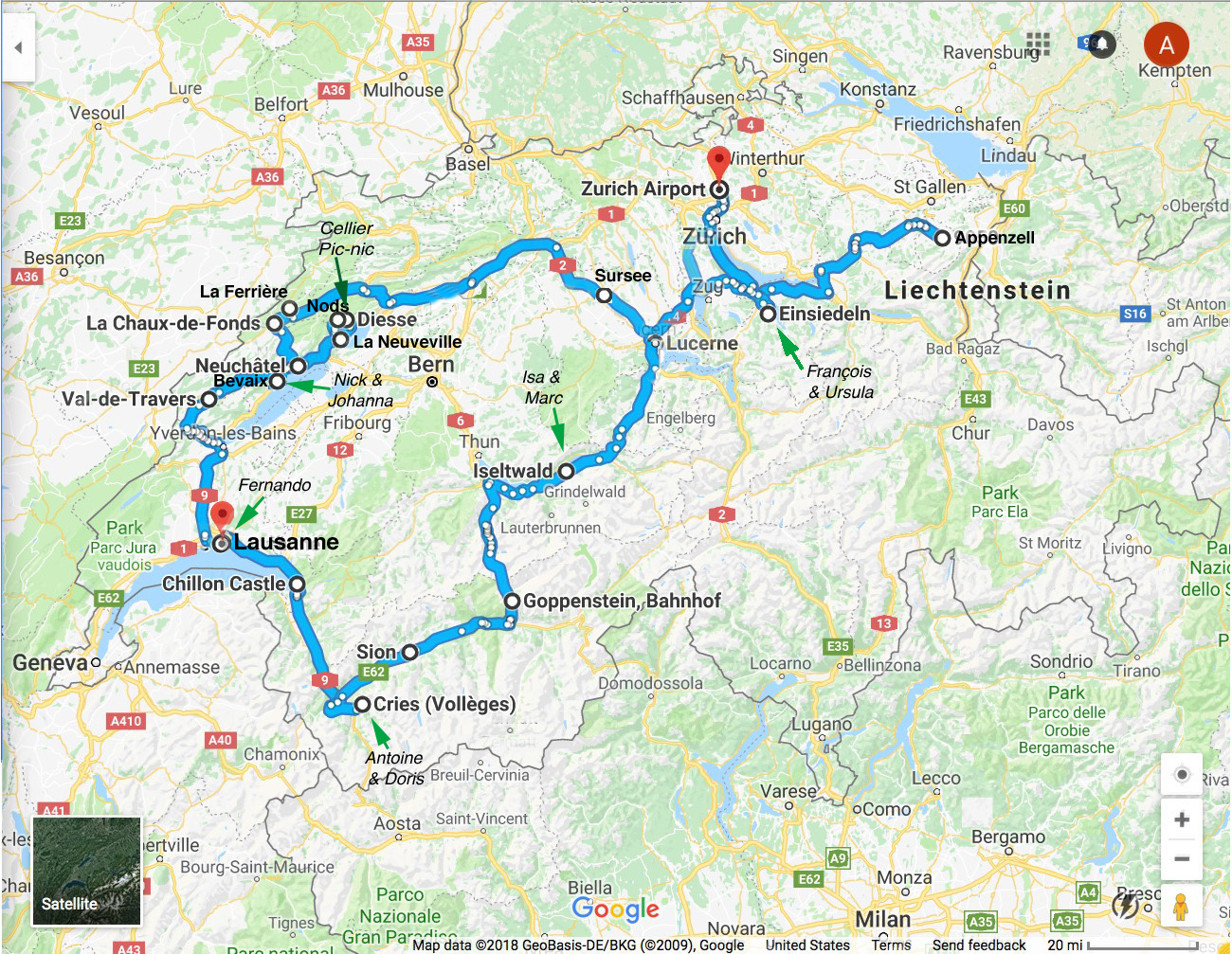 We all arrived to Zurich with a Tuesday afternoon and evening free, ample time to reset our internal clocks. Our hotel, the Hirschen, is in the old town, and is reportedly the oldest in the city, dating from late 1500s.

On Wednesday mid-day, the four of us traveled by train up to the large mountaintop park of Üetliberg, just west of the city. There we had a delicious lunch, and then climbed the tower to gain even more altitude for best viewing of the surrounding panorama.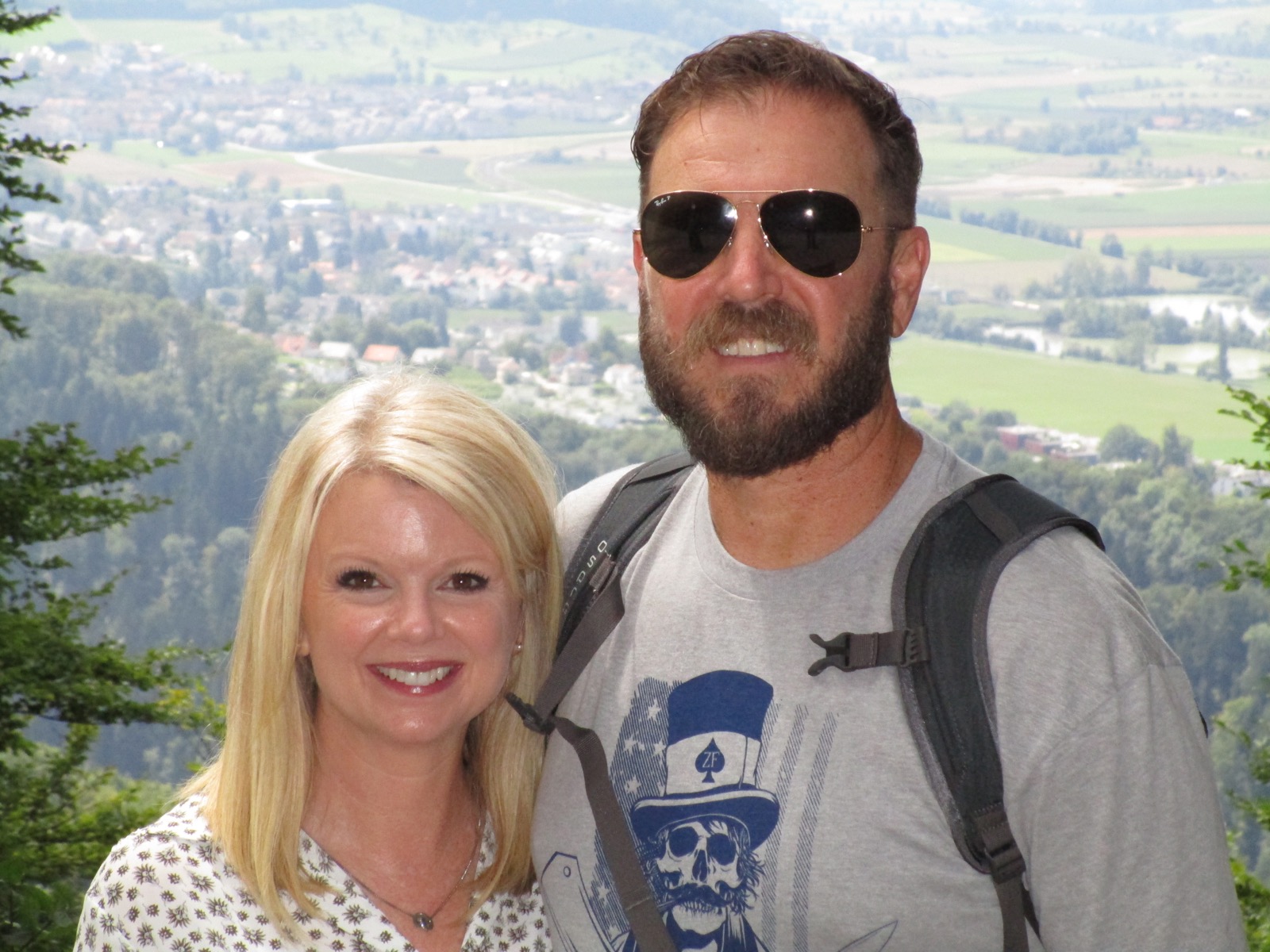 2017 08 16 – Uetliberg – Stacey, Dave


That evening we found our way to the Jules Verne Bar in the tower just below the Urania observatory (the latter was closed), with panoramic views from a closer perspective, and a well-stocked bar that featured flawless huge ice cubes. Dinner followed, outdoors at the bistro downstairs – ice cream!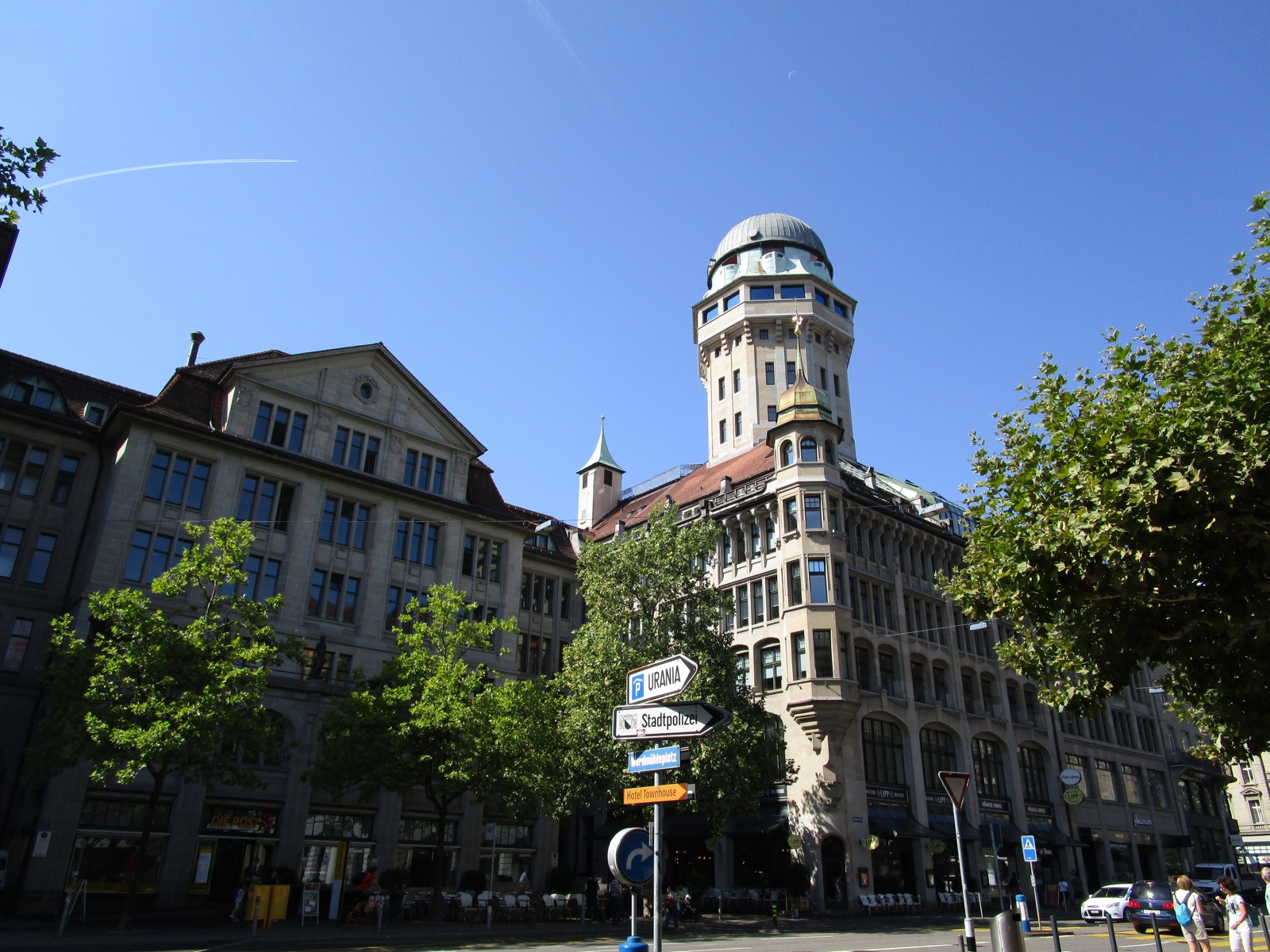 2017 08 16 – Zurich – Urania observatory tower


Thursday morning put us on the road westward. Our first stop was Lucerne, to re-visit the beautiful and moving 'crying lion' sculpture, that we loved when we first saw it about 20 years ago. We also explored the city a bit, looking for a glockenspiel of Dave's memory. We encountered a classic pharmacy, and an ancient apothecary display, in a building dated 1480.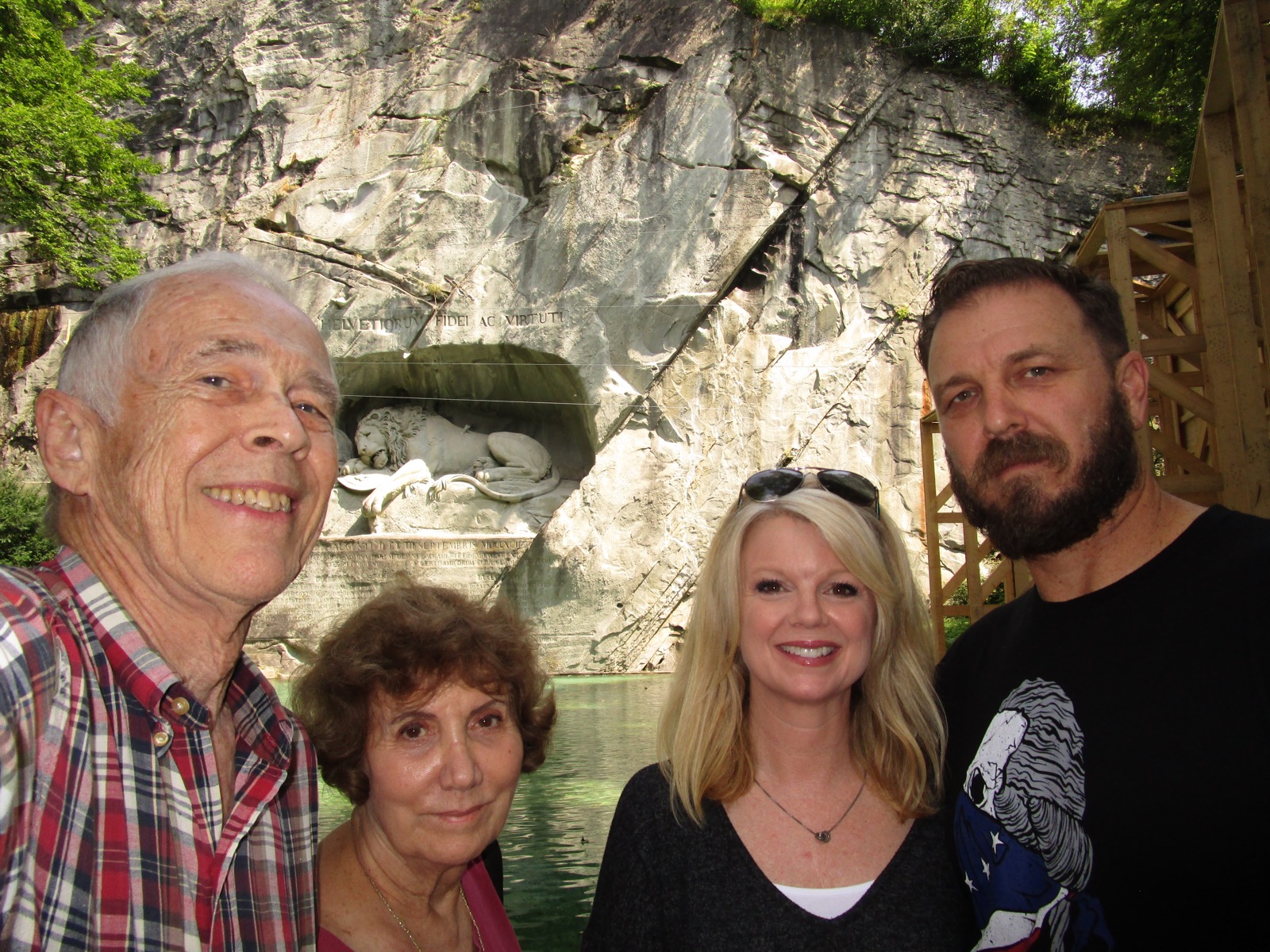 2017 08 17 – Lucerne – Al, Dolores, Stacey, Dave


Sursee, our earliest known ancestral location in Switzerland, came next. It is hard to know what the area might have looked like in year 1300; we could find nothing older than the Rathaus, built in the 1500s. That building had one of two interesting sundials in the village, displaying time only until early afternoon, because they were on walls facing east.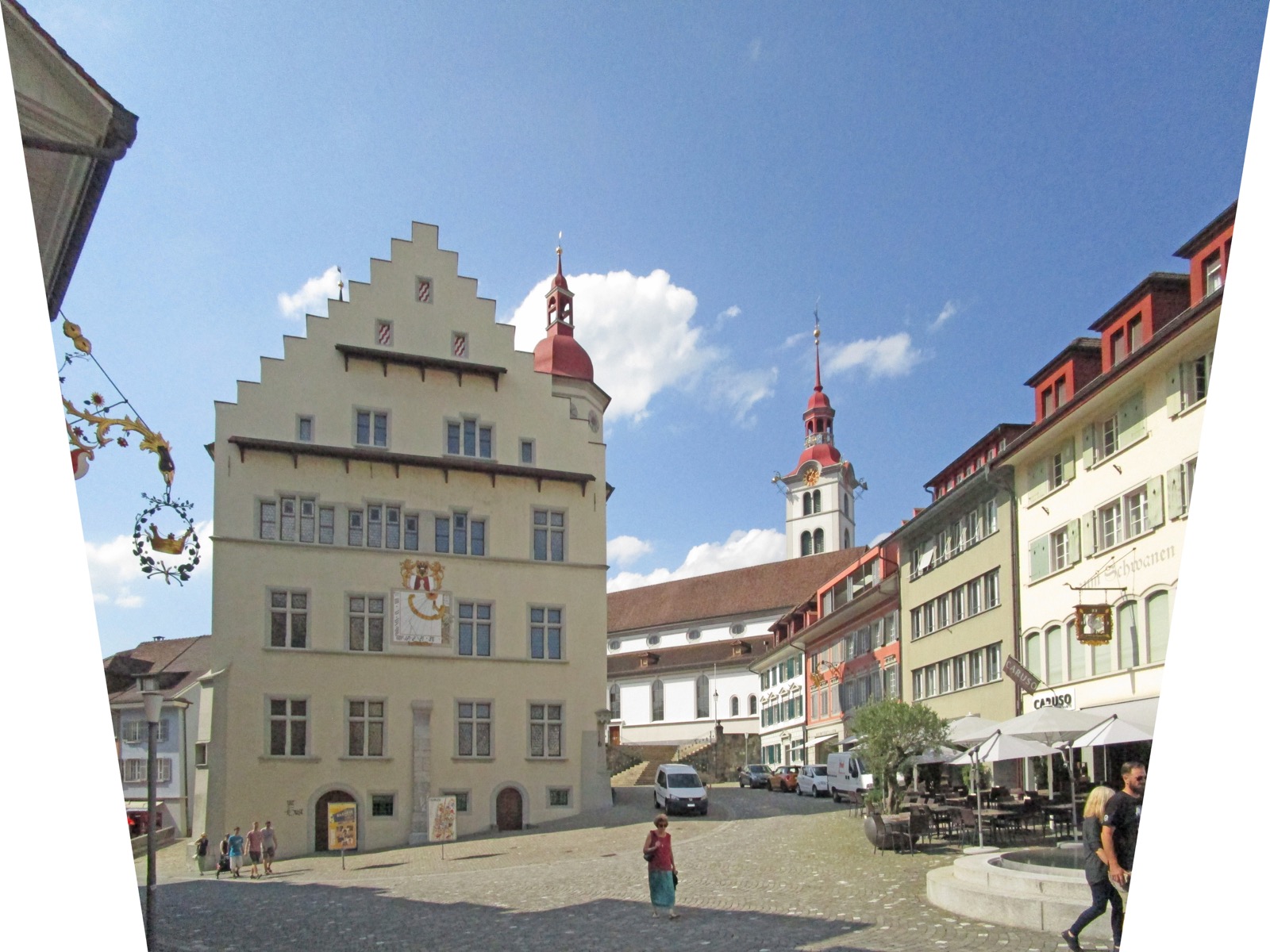 2017 08 17 – Sursee – the Rathaus


Driving further westward, we passed above Biel and then southward (exciting new territory to us!) through the Jura valley of Courtelary, St. Imier, and Renan to reach La Ferrière. At the Logis de La Licorne, built in the 1600s by my ancestors, we dined very nicely, and lodged for the night. The owners gave me a surprise, a very nice 24-page booklet (pdf, ~6.1 MB), which we have mostly translated – "History of Logis de la Licorne (En)" (pdf, ~4.3 MB). It details the history of the place, and of the owners over the centuries.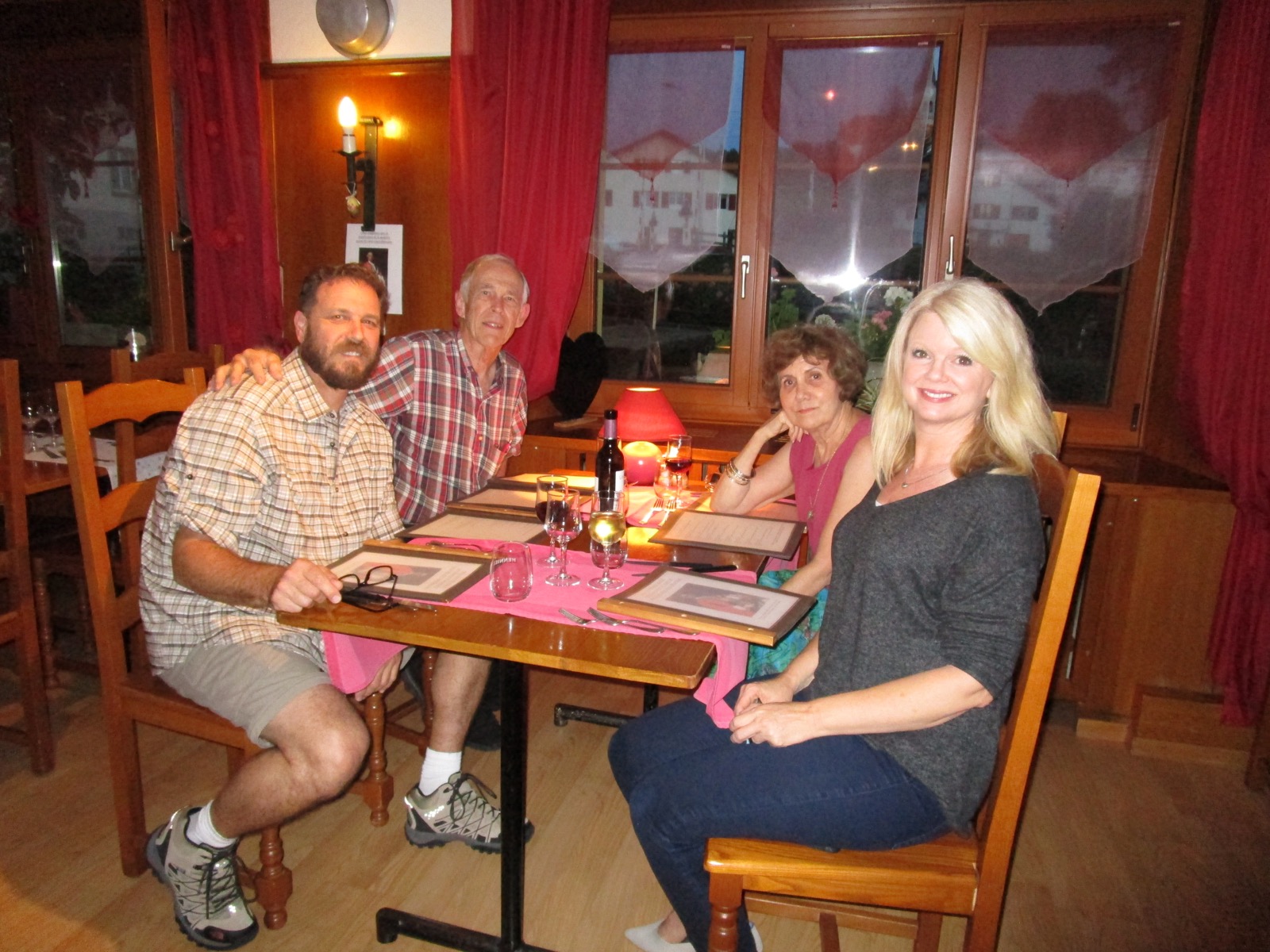 2017 08 17 – La Ferrière – Dave, Al, Dolores, Stacey


Next stop was the city of La Chaux-de-Fonds, where we spent most of the day in the International Museum of Horology. One of the Swiss pocket watches on permanent display here was made by my ancestors, and is labelled "Ballif et Cellier – Basel" on its' face. The current special exhibition topic is "Neuchâtel Clocks", which Ballif et Cellier also manufactured. Here is a good example of the type ...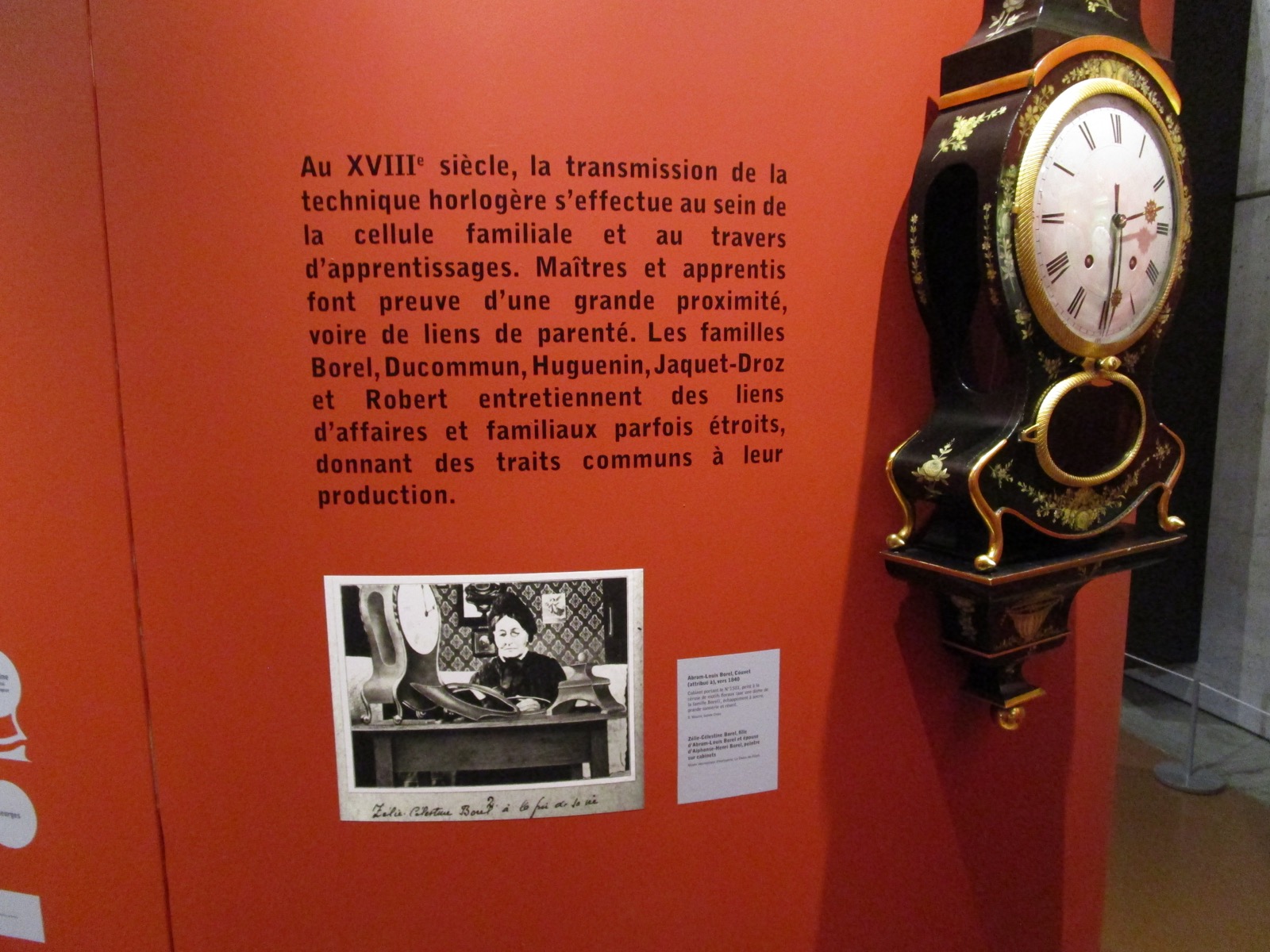 2017 08 18 – La Chaux-de-Fonds – International Museum of Horology


That evening we drove (lots of time in tunnels) to Hotel des Arts in Neuchâtel for a 4-night stay. Dinner that evening, at La Taverne nearby, was a local-area Tomme cheese, and salad. Later, I joined David and Stacey for a beer in the bar that, sad to say, has displaced the boulangerie at the corner of Place de Marché and Coq d'Inde, in the building where my grandfather was born (1870).
Saturday provided the opportunity to walk around Neuchâtel, enjoying the colorful sights of the weekend market – flowers, vegetables, fruits, spices – then, various other familiar spots. We ate a beautiful and truly delicious lunch of aubergine with pepper sauce in the lovely art-nuveau-era tiled Brasserie Le Cardinal.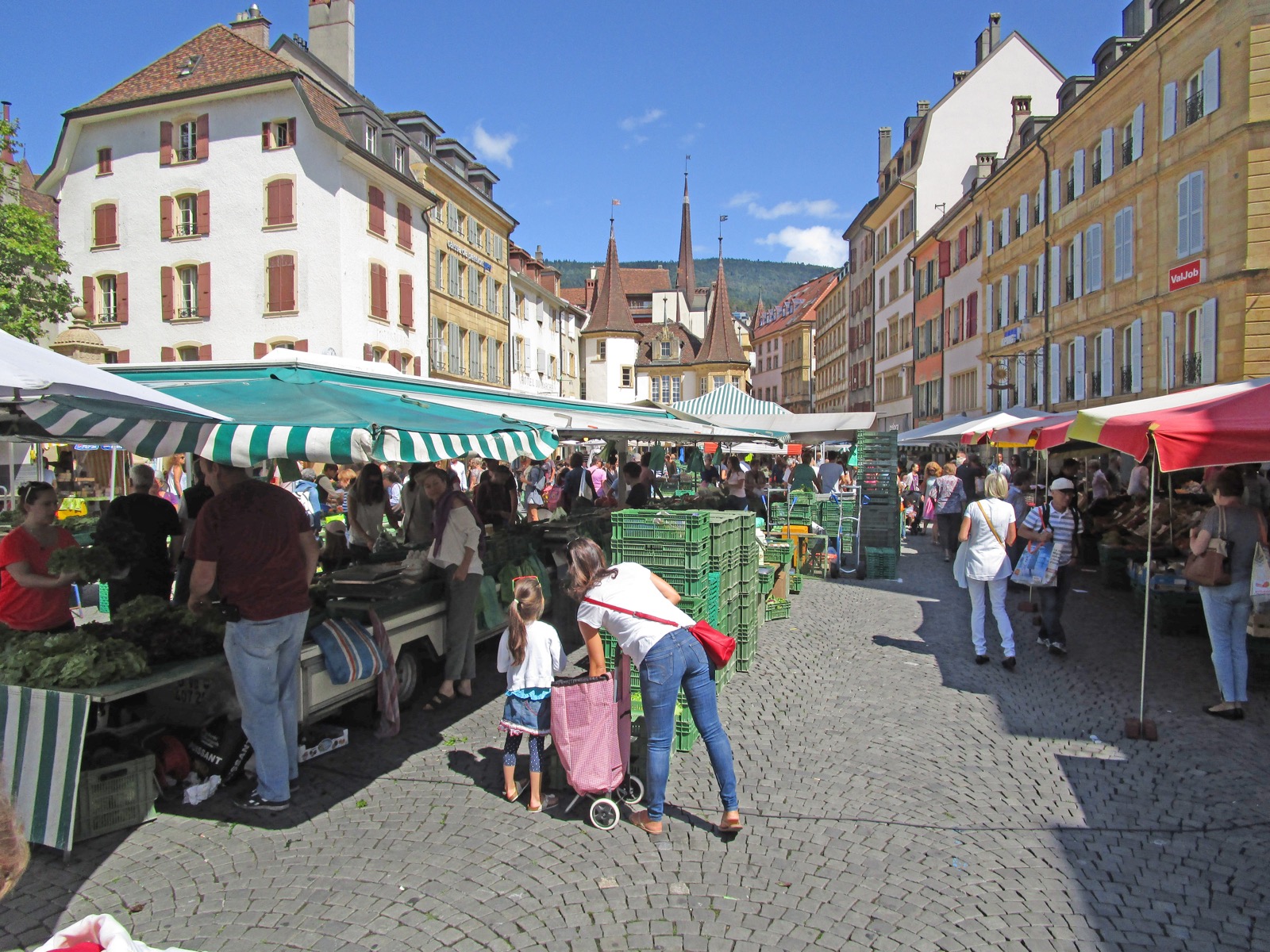 2017 08 19 – Neuchâtel – Market


That evening, we went south to the home of cousins Nick and Johanna Junod in Bevaix, where we were introduced to the local-area rosé wine, "Œil de Perdrix" (eye of partridge). Then, *winding* high up the mountainside to La Fruitière de Bevaix, we enjoyed a classic cheese fondue, with more Perdrix.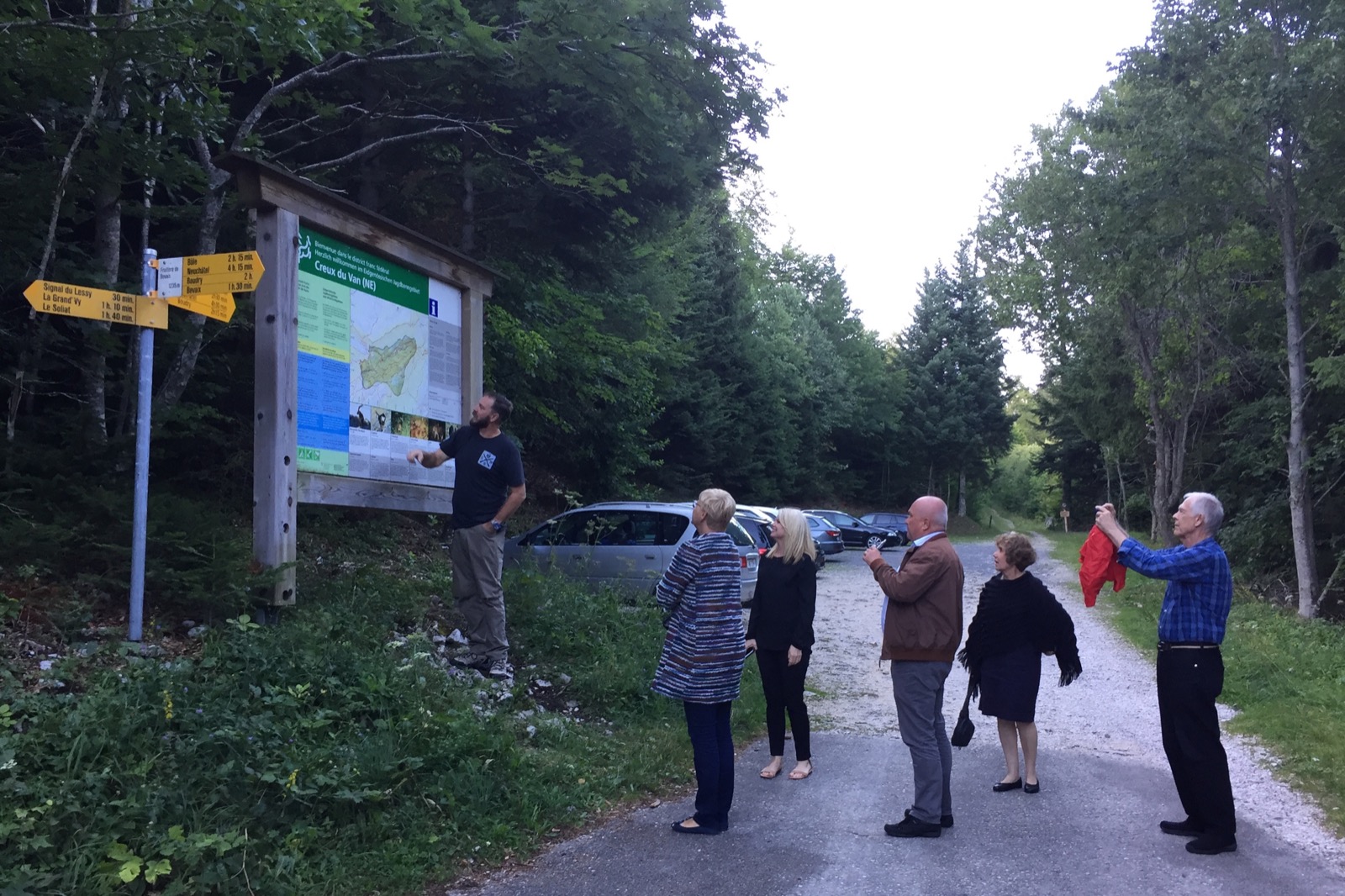 2017 08 19 – La Fruitière – group arrival


For the Sunday picnic, kind-hearted Johanna had prepared food for the Junod AND Cellier families. Approximately 30 Cellier and Junod and relations attended. We had the pleasure of seeing many again, and of several newly met cousins. Food and wine were more than ample, and we saw use of the proper curl-shaver for Tête de Moine. That cheese was invented by monks at Bellelay Abbey, in the Bernese Jura mountain, just east from Tramelan where ancestor Jean-Jacques Cellier (1707-1765) – who finished life in La Ferrière, with his sons – served his very first pastoral duty.
Our dinner that evening was fish, in the classic-towered Maison des Halles in the Place de Marché. Feels very much like home!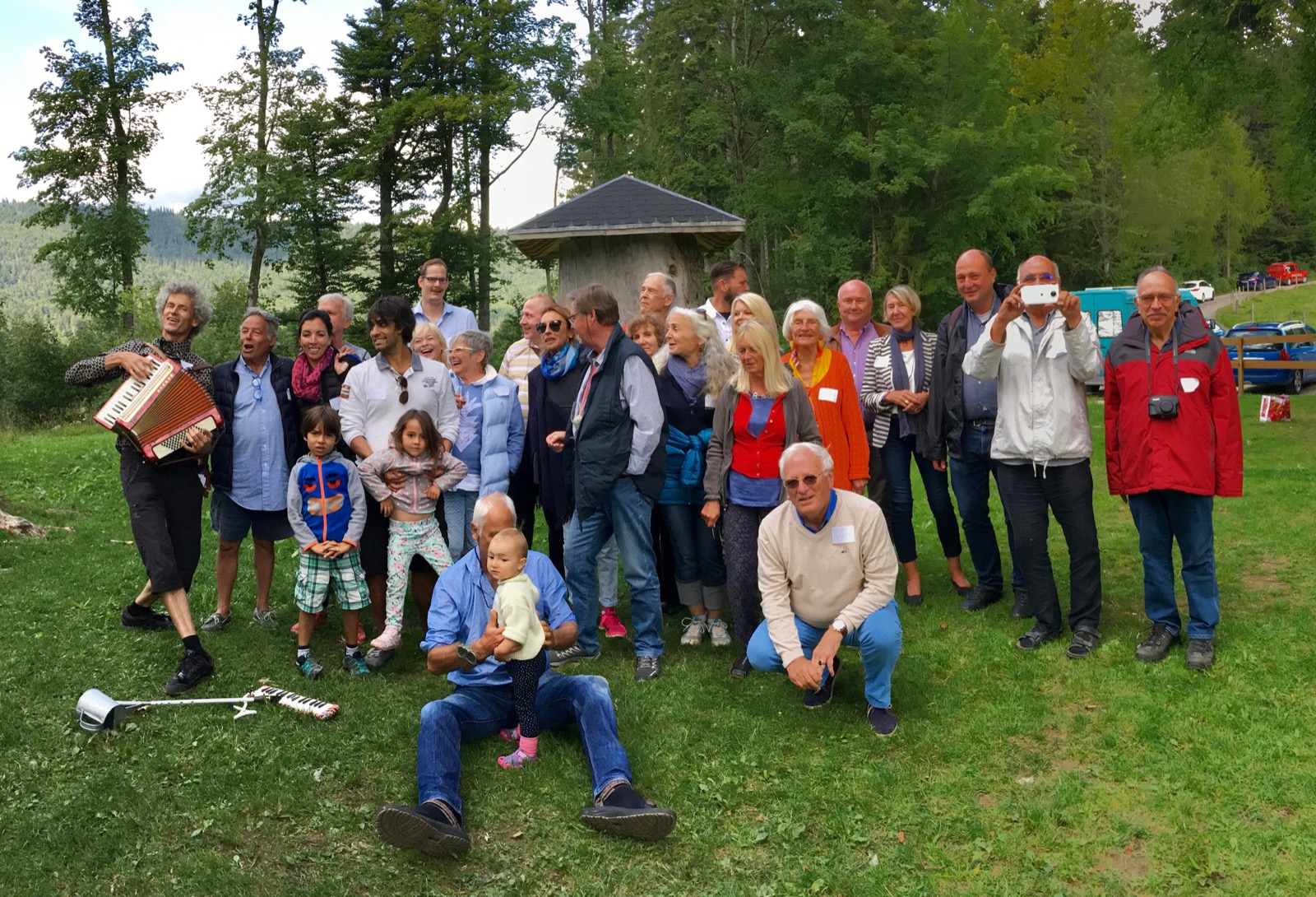 2017 08 20 – Cellier/Chiffelle/Junod picnic group


Monday morning, an early start led us to Nods – not far to the west of Diesse, in the hills above La Neuveville – for a look around that farm community, on our way to La Neuveville. This is where our most ancient Swiss ancestor, Hans Tschiffeli, relocated from Sursee in the early 1300s. The cemetery is on a beautiful slope overlooking the lakes and the mountains beyond. Only one pair of Cellier gravestones is found here today. While there, we saw paragliders coming to land quite close to us. One flier performed an incredible vertical loop, where he was hurled circularly over his inverted chute. He succeeded, as we held our breaths!


We four joined with Nick Junod and Alexandre Cellier for lunch at the patio restaurant of the J-J Rousseau hotel, a few hundred meters from the old town. We met Maurice Evard at the Hôtel de Ville (city hall) for a tour of the Salle de la Bourgeoise (Citizen's Hall), the archives in the ancient cellar at the base of the tower, and the museum.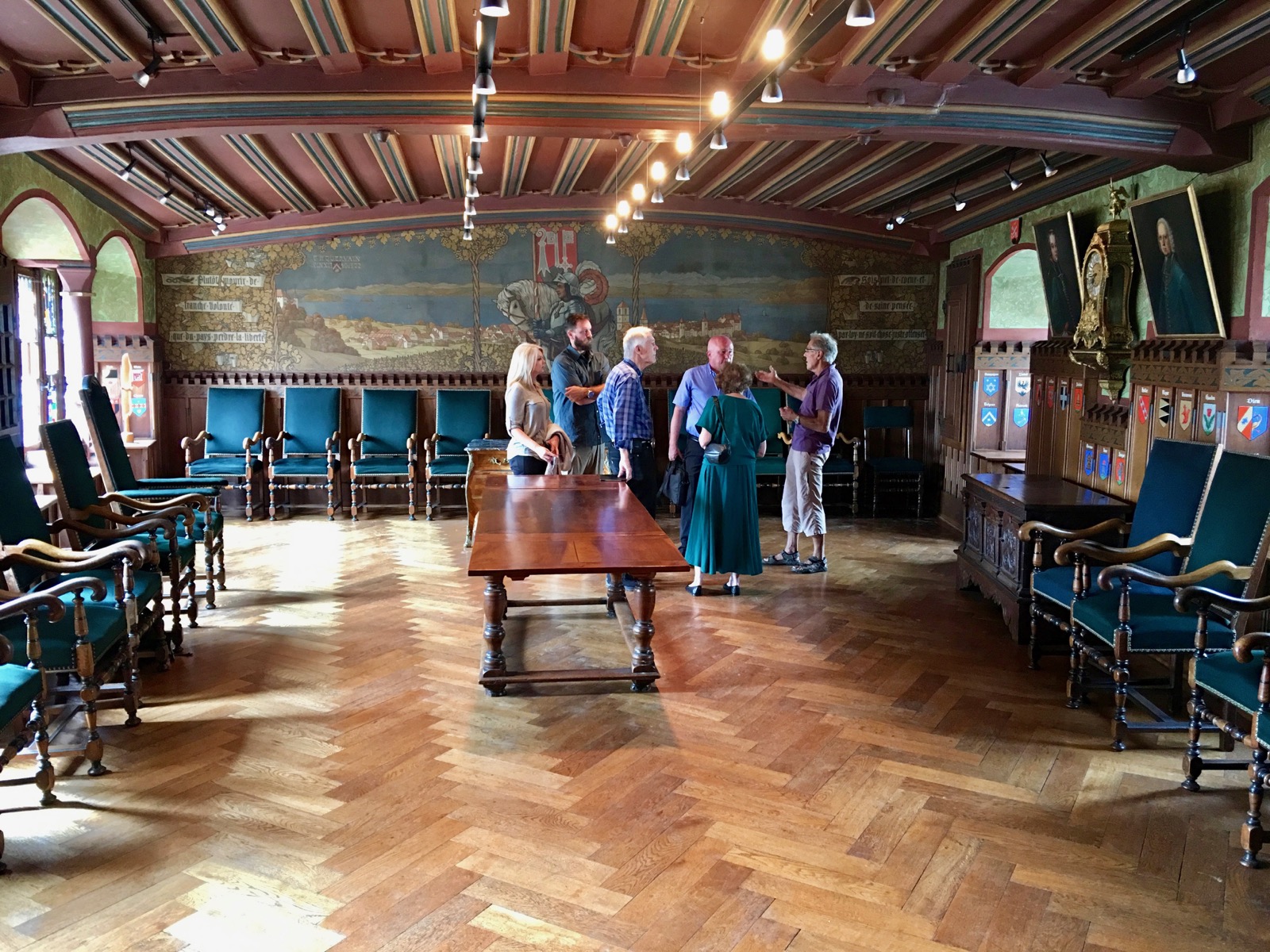 2017 08 21 – La Neuveville – Citizen's Hall


Our dinner for four on Monday evening was at Brasserie Le Cardinal. Dave and Stacey left us Tuesday morning, using the funicular (just a block from the hotel) to reach the train station, for a connection to Lucerne, Zurich, and beyond.
Dolores and I headed southwest on a pleasant drive, paralleling the lake on the hill slope, to pass through the valley of Travers and Fluerier, both family ancestral villages, then traversed (!) down to Yverdon for lunch and a brief shop-walk around town.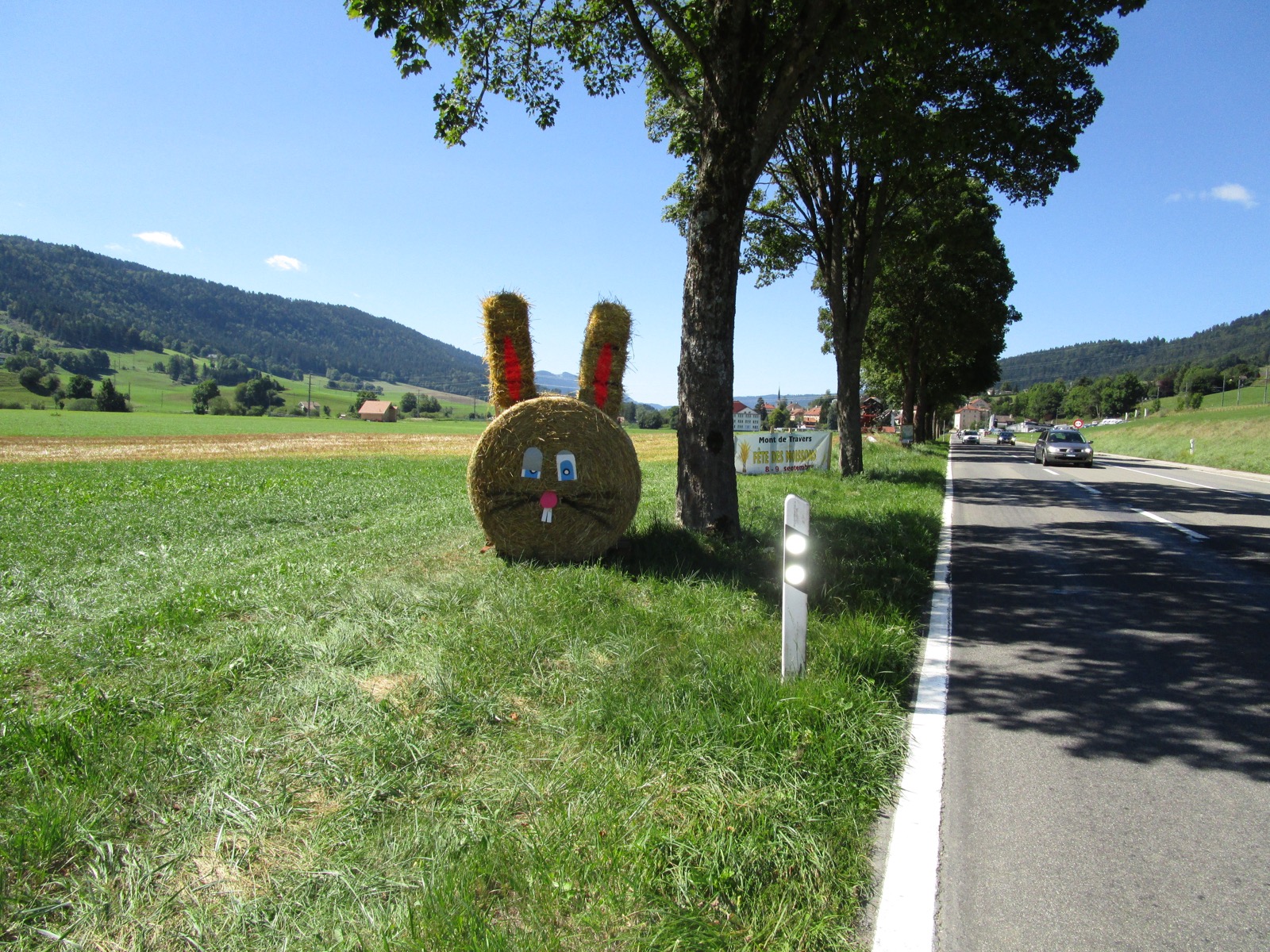 2017 08 22 – Travers – rabbit-eared hayroll


Afternoon brought us to Ouchy, a favorite lakeside community of Lausanne. We checked in to a very nice suite at Hôtel du Port, which is just between prior lodgings – the Chateau de Ouchy (across the street) and the Residence (which was, a century ago, owned by grandfather's mother's Bovet family). The views out the window of and across the lake were superb.
Exploring the main areas of the city Lausanne was our fun assignment for the rest of the day.


In the evening we were met by Fernando ("Nano") and went to dinner in the long-established restaurant, at ground floor in the adjacent building. There at Café du Vieil Ouchy, the veal cordon bleu and the wine were excellent, and Fernando presented Al with a birthday gift including a lovely flagon of Grand Armagnac.

Driving along the north side of the big lake, we paused in Vevey – yet another ancestral base.


Then to the east end of the lake, to visit the castle of Chillon. A very interesting site. On one wall, a Tschiffely blason – yes, a cousin! Some of the chambers are visibly hewn from the rock, with slanted veins of stone quite in view. What a job that must have been!


After Chillon, we drove south and east into canton Valais, to the southern valley. We enjoyed a too-brief visit with architect friend Antoine Wasserfallen and family in Cries, on the slope of upper Volleges, meeting his wife Doris – a Cuban-born singer and songsmith – for the first time. Antoine prepared an incredible quantity of BBQ chicken, accompanied by a nice Cornalin (Rouge du Pays) wine of Valais.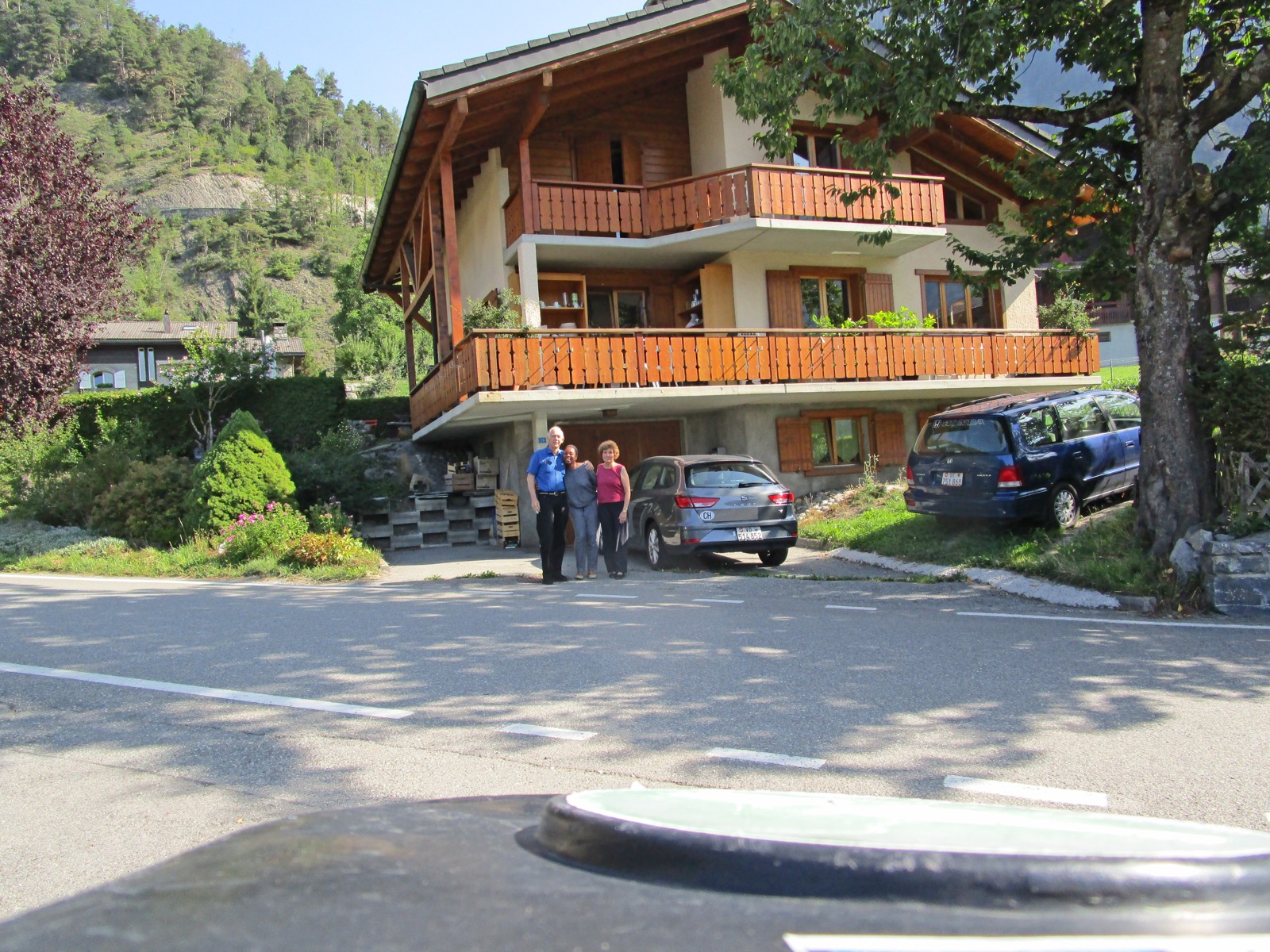 2017 08 25 – Cries – Al, Doris, Dolores


On Saturday, we circled back through Martigny, then through Sion, and followed Antoine's suggestion by climbing the switchbacks up to Goppenstein, to drive aboard a car-carrying train through the mountain tunnel northward to Kandersteg.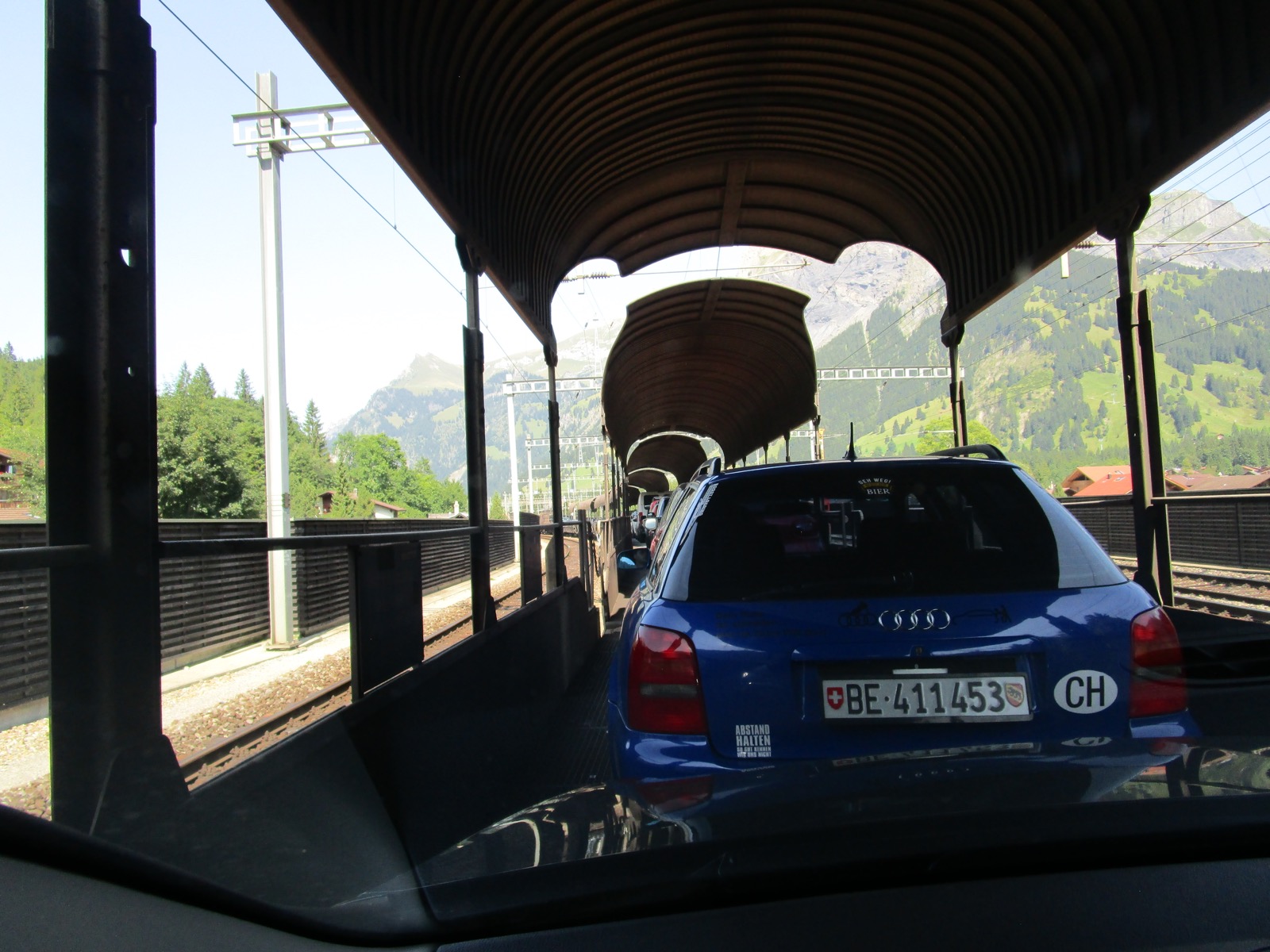 2017 08 25 – Goppenstein to Kandersteg– on the auto-carrying train


Downhill then to Spiez, on the shore of Lake Thun, the western lake of the Interlaken pair. After some lakeside time, we proceeded eastward to Iseltwald for a visit with Isa (sister of Fernando) and Marc. With just a short walk to a nearby hilltop, we enjoyed a delicious dinner of roast lamb, overlooking Lake Brienz as the sun set. Marc is amazing, not only as a cook, but also, despite only recently beginning to learn English, he has great command of the tongue. Awesome to us monolinguals.

The morning gave us the opportunity for a lakeside brunch a few kilometers to the west, in another wondrous setting, followed by a tour of the Interlaken environs. Too bad we could not stay for their September wedding!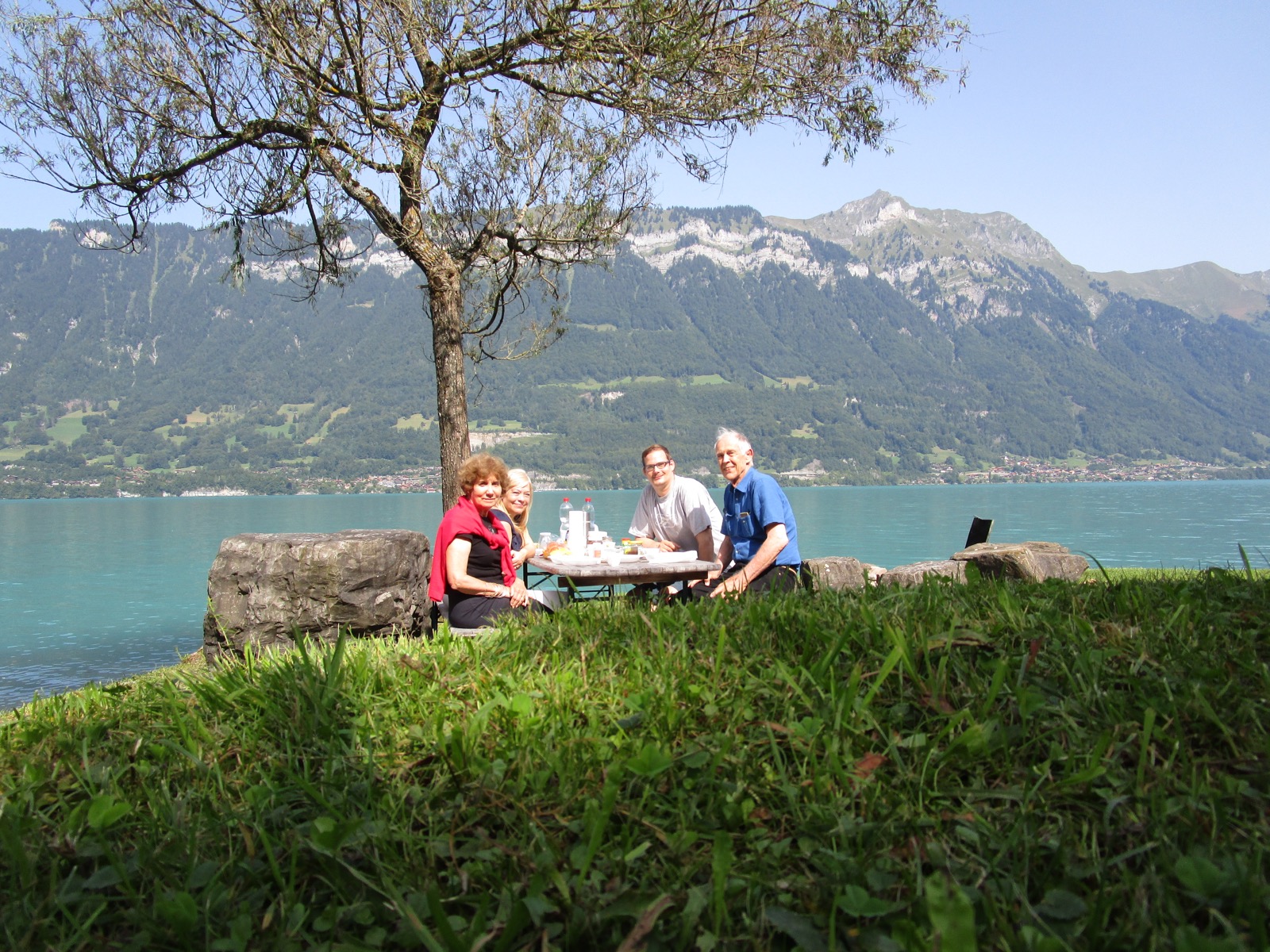 2017 08 26 – Iseltwald - brunch by the Brienzersee - Dolores, Isa, Marc, Alfred


Heading eastward once more, our path including some incredibly twisty altitude-gaining tunnels, we drove past Lucerne to Einsiedeln, and checked into the hotel. Well, not quite – as happened in our last visit to this city, we were diverted a few doors down to a different hotel. Luckily, the transition was quite seamless.

We joined cousin François and Ursula in their lovely new 360-degree view penthouse apartment for tapas dinner.

On Sunday, they drove us to Appenzell and surrounds; we enjoyed a superb buffet lunch at Weissbad. We got to see yet another region of Switzerland for us to learn about, with some notable architectural distinctions including barns attached to houses, and intricate decorations on downtown building fronts.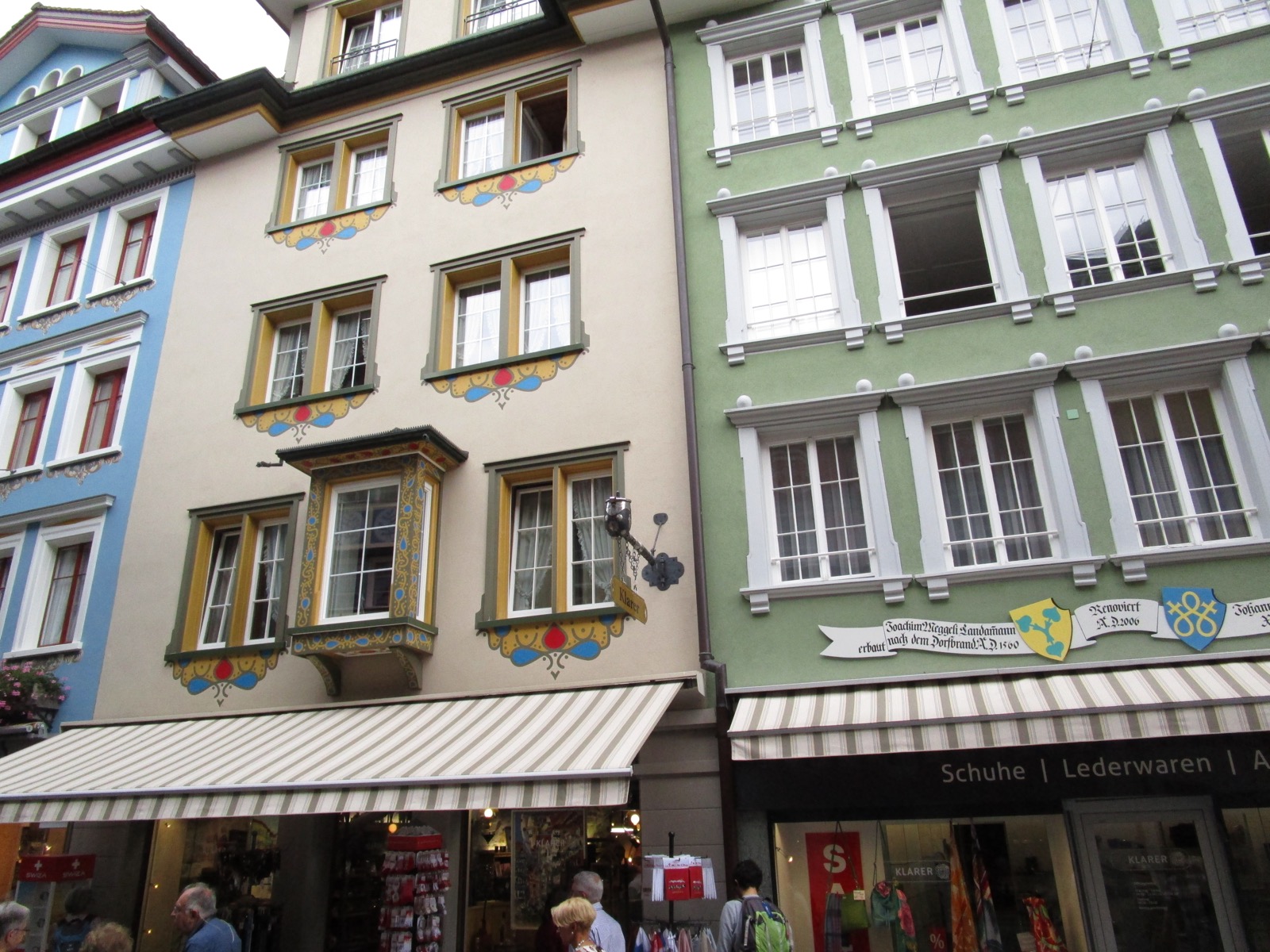 2017 08 27 – Appenzell – unique


That evening, François once again dazzled with his chef skills.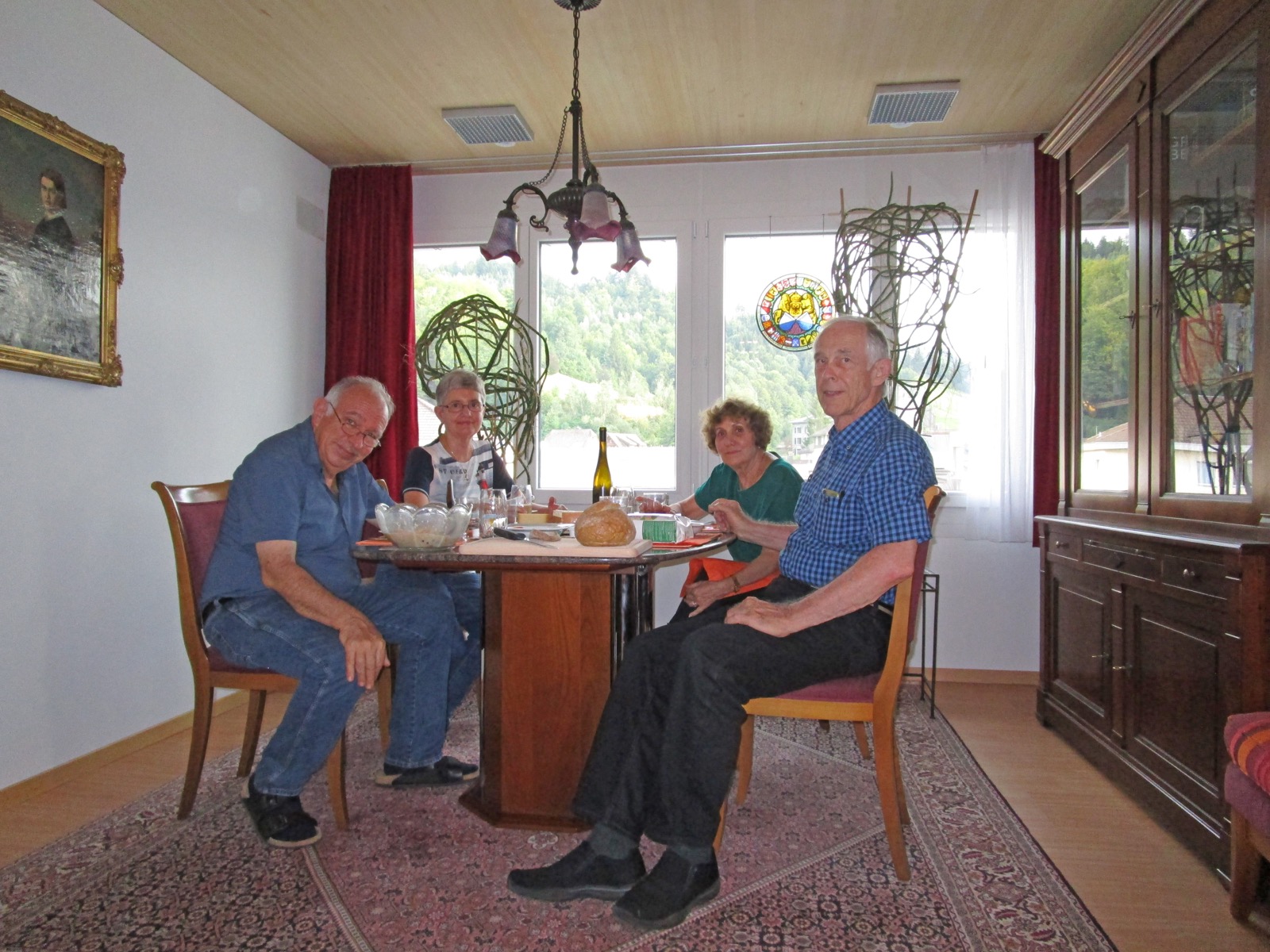 2017 08 27 – Einsiedeln – François, Ursula, Dolores, Alfred


Oh, and we shall not soon forget the souvenir delivered electronically about 3 months after our return home – a citation from Zurich police radar camera – for 3 km/h over the speed limit, on the way back to the airport!

Dolores and I are so very fortunate to again visit with dear cousins and friends in the beautiful land of my paternal ancestors. We thank all for your gracious hospitality, and we look forward to our next visit.



Return to Home

Back to top of page